korbo.com Genealogical pages

Lock and Dam #3 on the Green River at Rochester (KY)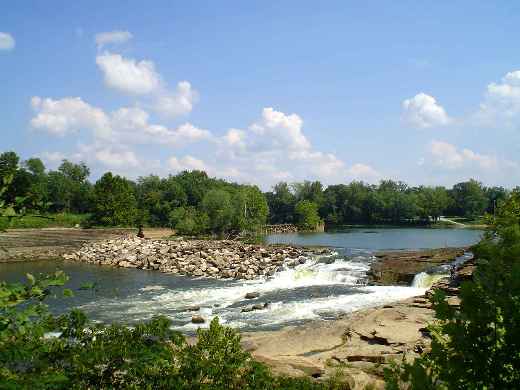 Remains of Lock & Dam #3 at Rochester, KY
I wonder what this view would have looked like when everything was in full operation.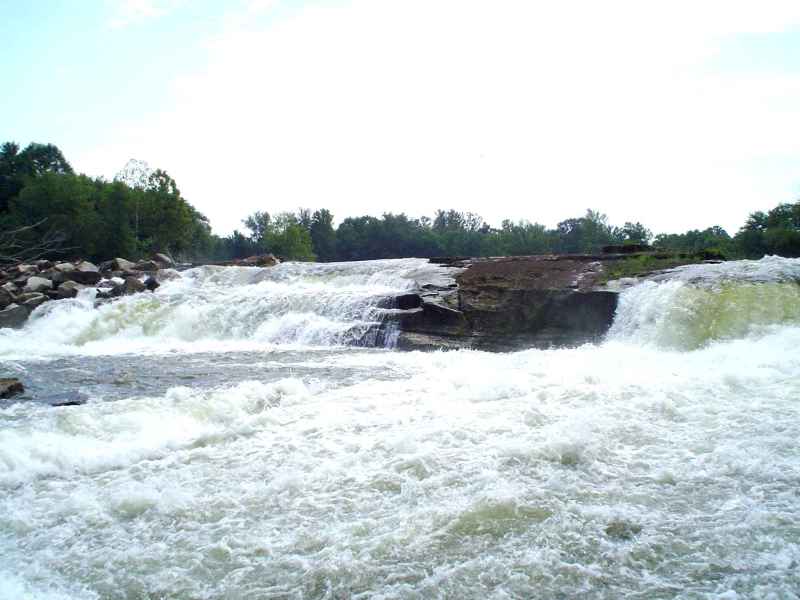 It is not too hard to imagine a stepped dam here.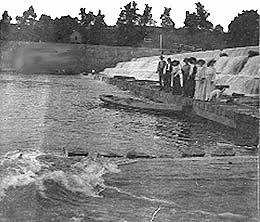 Old photo of Lock & Dam #5 near Glenmore, KY
Was Dam #3 always a rubble construction, or was it a rock or concrete stair-step?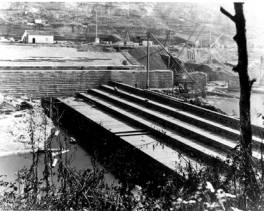 Built like this? No.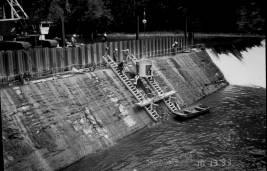 Or a combination construction like this? No.
ANSWER: It was constructed in ca. 1834 as a rock-filled timber-crib dam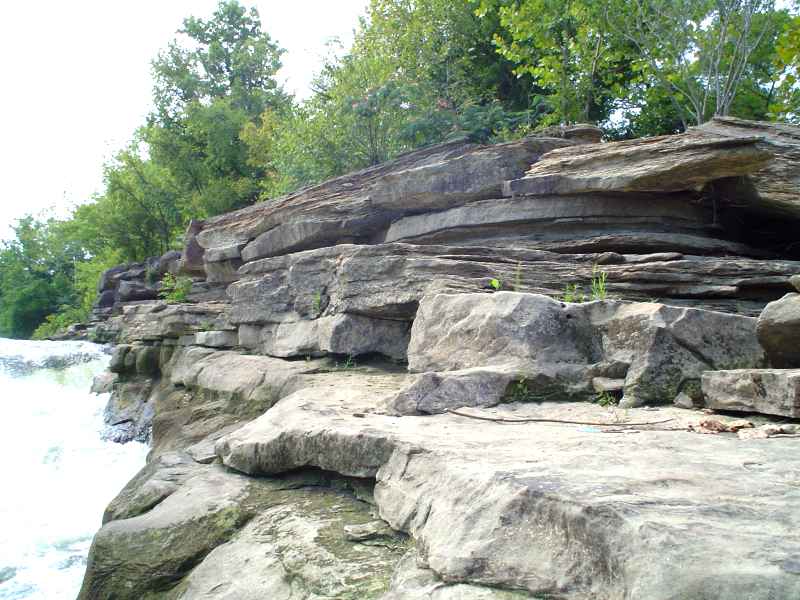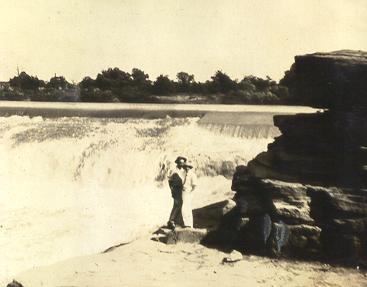 Are these rocky ledges (L) the present-day remains seen in this old photo (R) near the dam?
Yes.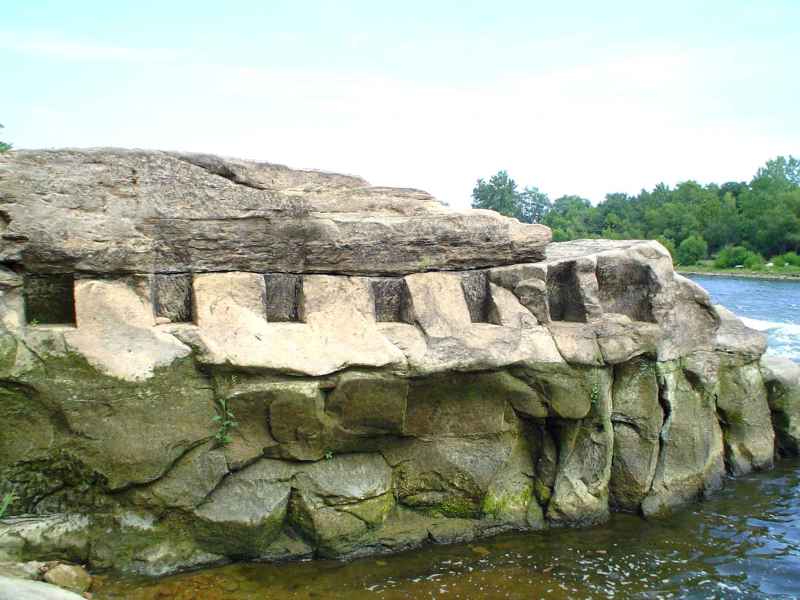 There are remains of old construction.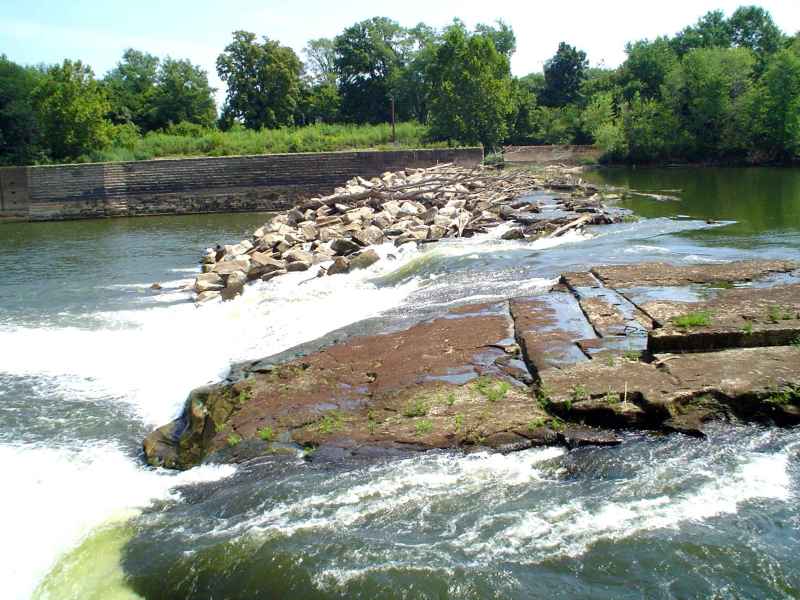 What used to be here? Lumber mill on Rochester side of the river.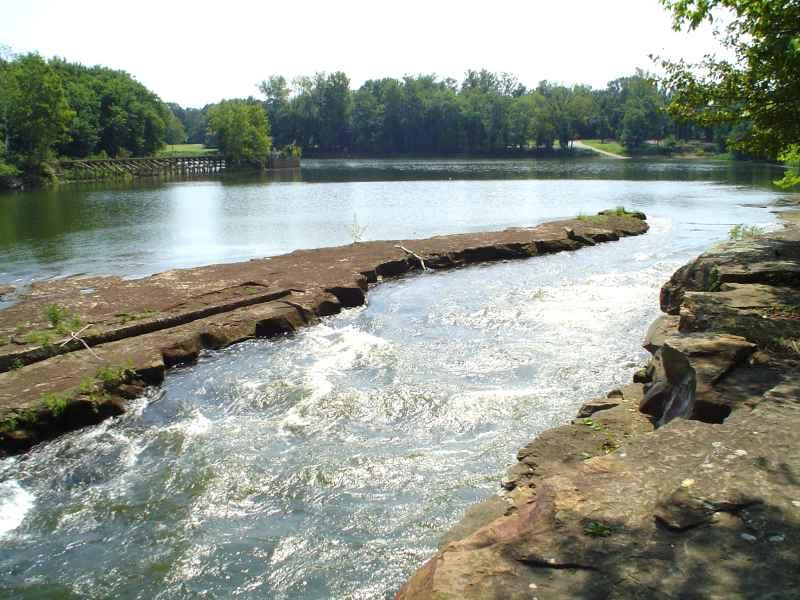 Was this channel cut into the old dam's foundation? No.
The channel was the old mill race (it diverted water power for use by the mill).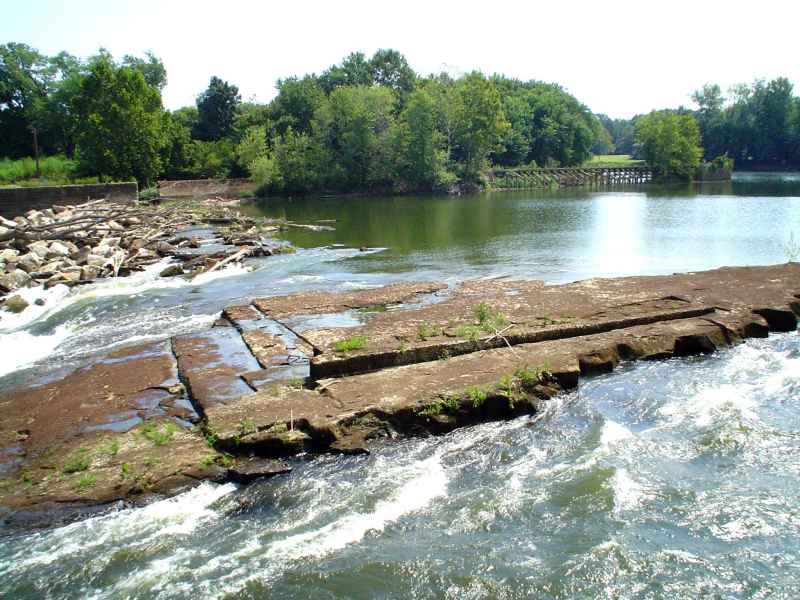 Was an earlier construction jack-hammered into the rubble used for the remaining dam?
No. The foundation lines seen in this view pertained to the old mill building.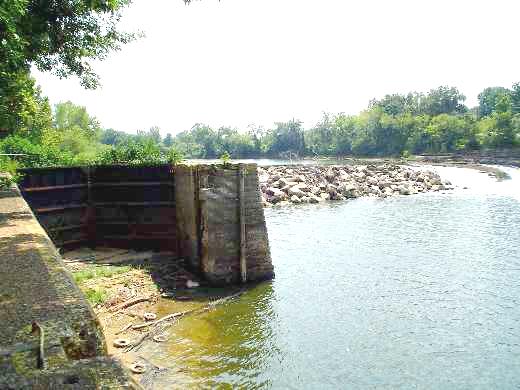 Was Lock and Dam #3 ...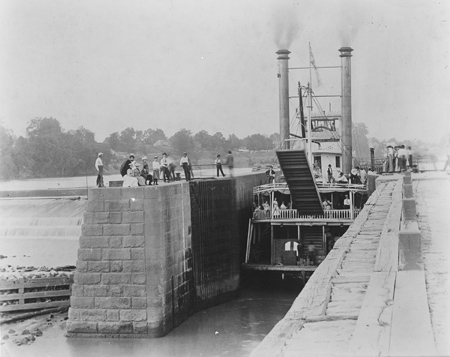 ... similar to #2 (above)? Yes, very much so.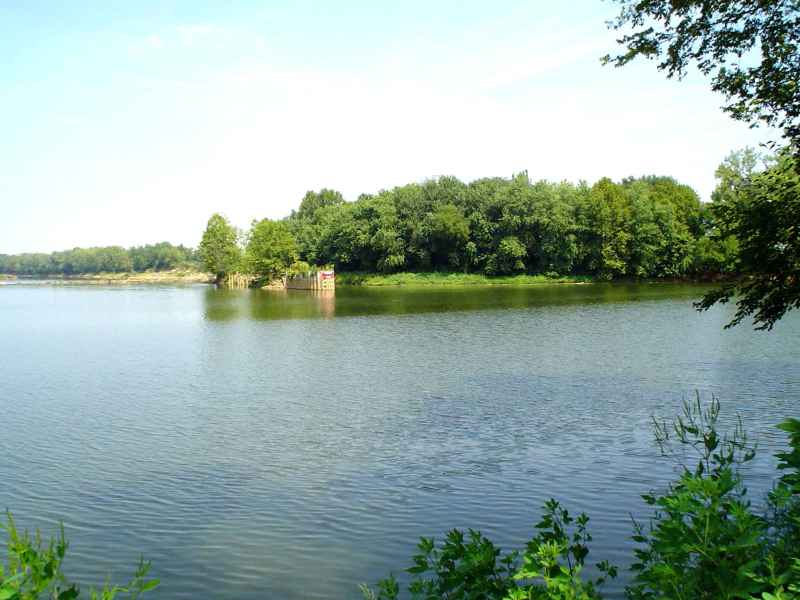 View from the bend above Lock & Dam #3.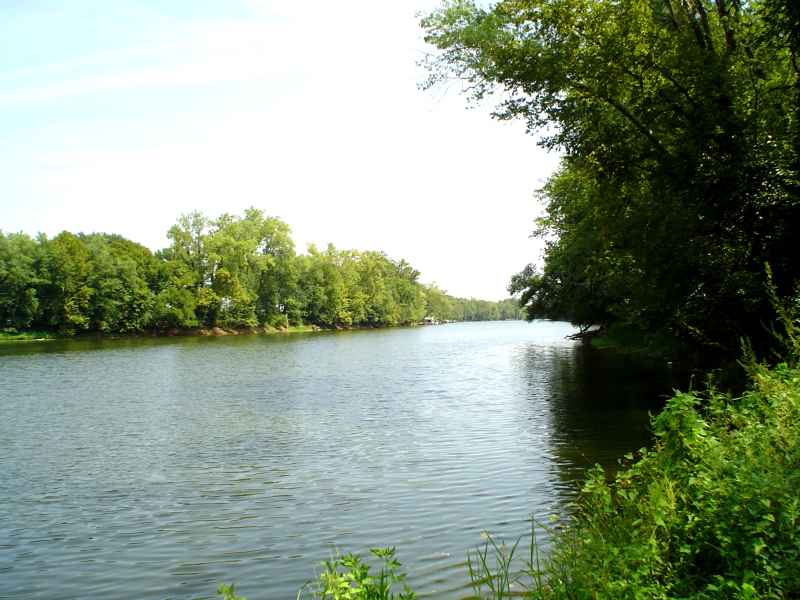 The ferry across US 369 is about a mile up river from the old dam and lock.
Brief History of the Locks and Dams on Green River
Sources:
1. Mahrer, D.L., The Green, Rough, and Barren Rivers, © D.L. Mahrer 1969, (K. 557.69 Mah)
2. USACE, Louisville District, Navigation Disposition Study, Vol. 1, June 2001
3. Interview with Ernest Fulkerson, Ohio County Historical Society, August 2005
4. Research assistance from Wanda Fulkerson, Central City Library, September 2005
In order to make the river navigable for commercial purposes, a set of 6 locks and dams were constructed on Green River beginning in about 1838:
L&D #1 at Spottsville (KY) - opened 1840 (Hwy 60, around Mile 9 from mouth of Green on the Ohio River near Henderson)
L&D #2 at Calhoun/Rumsey (Hwys 136 and 81)
L&D #3 at Rochester - opened 1838 (Hwy 369 at point of Muhlenburg/Butler/Ohio counties)
L&D #4 at Woodbury - opened 1842 (Hwys 70 and 403 in Butler County near Warren County)
L&D #5 near Glenmore (near Hwy 185 SE of Reedyville)
L&D #6 in Brownsville (Hwy 70, Edmonson County, western edge of Mammoth Cave National Park)
Early steamboats were known as "packet boats" or simply "packets"; they were owned and operated by packet companies, which were the freight handlers near the turn of the century (from 1800s to 1900s). Keep in mind that there were few good roads in those days, and movement for commercial and personal purposes over land was relatively expensive and dangerous .. not to mention slow. Although the Green River system probably has wanted for maintenance since construction was first completed, by 1847 five steamboats were making daily trips, for example, between Bowling Green and Evansville, and the years between 1890 and 1910 were "the most glamorous and romantic period". In 1905 there were nine packets on the Green River, and twenty-eight pleasure boats operated on the river and its tributaries. It is likely that the Green River system provided the only readily available means of transportation and pleasure during the period. Around 1906 it was possible to leave Calhoun at five in the evening and arrive in Evansville around daylight.

So what brought the system to the sad state of repair we see today? The short answer is it became unprofitable. As other transportation methods arose in Kentucky, commercial traffic on the Green dwindled. The big show stopper happened on May 25, 1965. That was when Dam #4 at Woodbury failed, and the resulting breach severely lowered the water level up river. With no way to move heavy boats between Lock #4 and Lock#5, the entire system was effectively crippled. Due to the relative lack of commercial significance of the system, Dam #4 was never repaired. Today, boats are still able to lock up and down the river between the mouth of the Green near Henderson, KY, and Evansville, IN, at Spotsville (#1) and Calhoun (#2) to just below Rochester, but it is not possible to lock through Lock #3 because it is completely out of operation .. filled with sediment, debris, and frank garbage. Nonetheless, the river still holds plenty of appeal. -Terry Knight
---